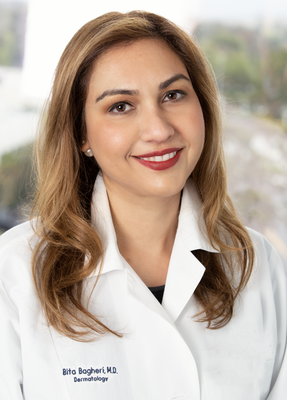 Dr. Bita Bagheri is a board-certified dermatologist practicing medical and cosmetic dermatology in Orange County California.
She majored in Biology at the University of Pennsylvania, graduating Magna Cum Laude as a Benjamin Franklin Scholar. After earning her medical degree at the University Of Pennsylvania School of Medicine, Dr. Bagheri completed her internship at the University of Utah Medical Center and completed her residency at the Columbia-Presbyterian Medical Center in New York where she served as Chief Resident.
Dr. Bagheri is a superbly qualified physician with years of experience in all aspects of dermatology, including medical dermatology, dermatologic surgery, and cosmetic dermatology.
She's published articles in several medical journals and is the recipient of several awards. She was the first prize winner at the annual Conrad Stritzler dermatology resident competition at the Dermatologic Society of greater New York, and the winner of the American Heart Association research scholar's award at Duke University. Dr. Bagheri chose to specialize in Dermatology because she appreciated that Dermatology allowed physicians to have daily interaction with patients, both young and old. Dermatology allows for surgical treatments, as well as cosmetic improvements.
Dr. Bagheri has been certified by the American Board of Dermatology since 2002. She sees patients for pre-cancer, skin cancer, acne, eczema, warts, rashes, nail problems, combining traditional and natural techniques into her practice. Additionally, Dr. Bagheri excels in cosmetic procedures such as Botox, fillers, chemical peels, IPL, Cool Sculpting, and more.
Dr. Bagheri was born in Chicago, IL and currently lives in Newport Beach, CA with her husband and two daughters.
She's thrilled to treat patients at her dermatology practice located at 520 Superior Blvd. Suite 335 Newport Beach, CA 92663. Please call to schedule your appointment at (949) 236-7900
Languages
English and Farsi
Dr. Bita Bagheri's Locations and Office Hours
Hours:
Mon – Fri 9 AM – 5 PM 
Newport Beach
520 Superior Ave. Suite 335
Newport Beach, CA 92663
(949) 236-7900
contact us

Irvine
16305 Sand Canyon Ave. Suite 220
Irvine, CA 92618

Tustin
15000 Kensington Park Drive Suite 270
Tustin, CA 92782
Publications
Generalized Acanthosis Nigricans in an Otherwise Healthy Young Child